"Must say that the job was done in a most professional and helpful way the boys were a pleasure to have and treated our home with care.
Once again thanks to all"
Selwyn George
"Can I say I was very impressed with Tom (Leavitt sic) the engineer? Not that I have had problems with any of your other guys, but Tom was very slick, knowledgeable and professional. What I really liked to see was, as he was working, he was constantly sharing the information of what he was doing and why, with the lad who was assisting. (I also learnt quite a bit too!)
The radiators are all fixed and working fine - although the weather has been so good that we haven't really needed them. (But we will!) And I now have an understanding of how to maintain the water pressure in the system, which will be useful going forward. I'm sure I was told when it was all set-up - but it now makes sense!
The Rayburn has been working really well too - although he was able to give us some ideas about how we can upgrade from the model we have to a newer (reconditioned second-hand) model which should work a lot better for us. This is not something we will do this year, but maybe next year - and although that isn't something we can source through Heatshine - certainly, the installation is something we would like Tom to do.
And he fixed the toilet - and that is working fine too.
So all good! All I can add is - make sure you keep Tom, he is going to be an asset to the company :)"
Frank Blades Rhydlewis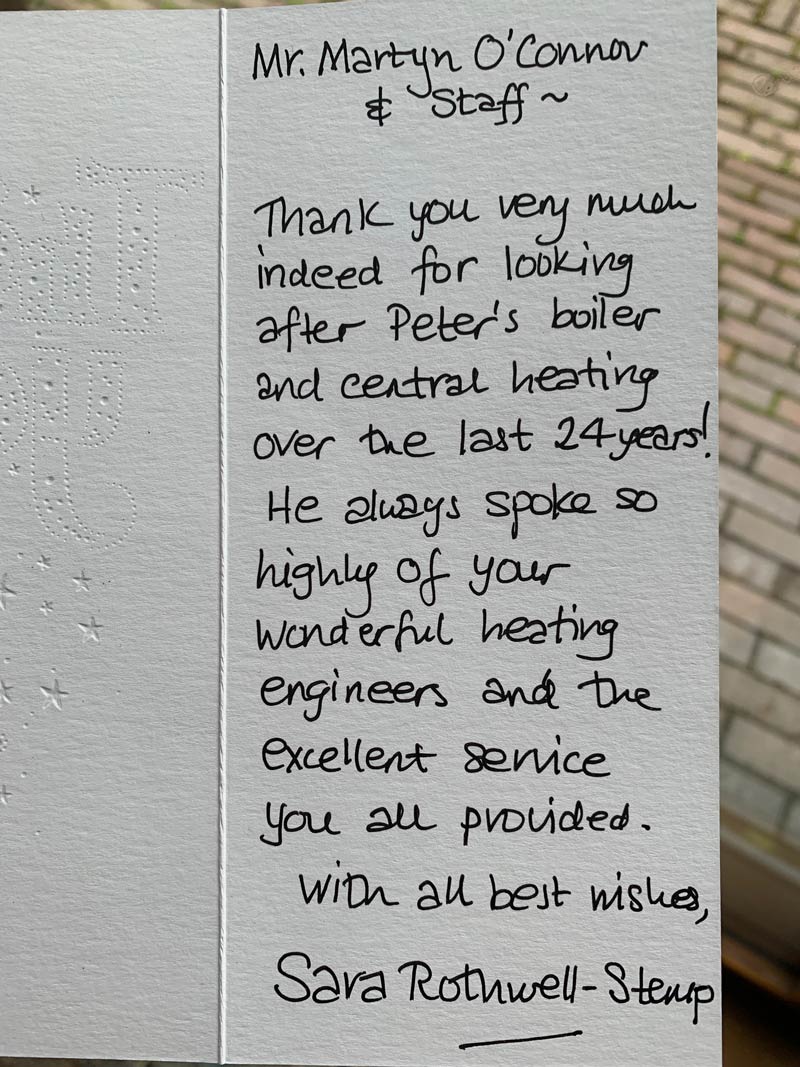 "Thank you very much indeed for looking after Peter's boiler and central heating over the last 24 years! He always spoke so highly of your wonderful heating engineers and the excellent service you all provided"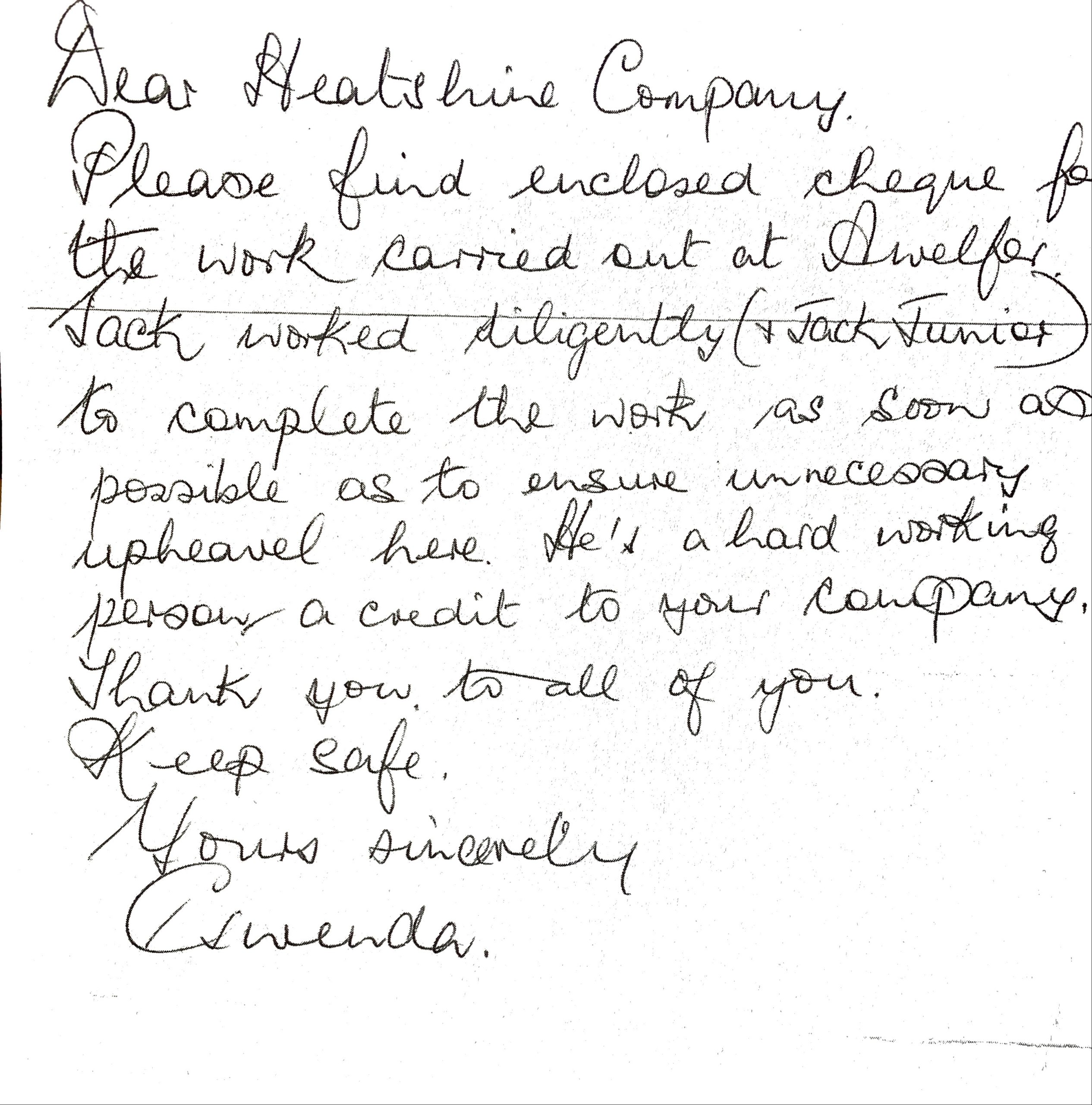 "He's a hard working person and a credit to your company"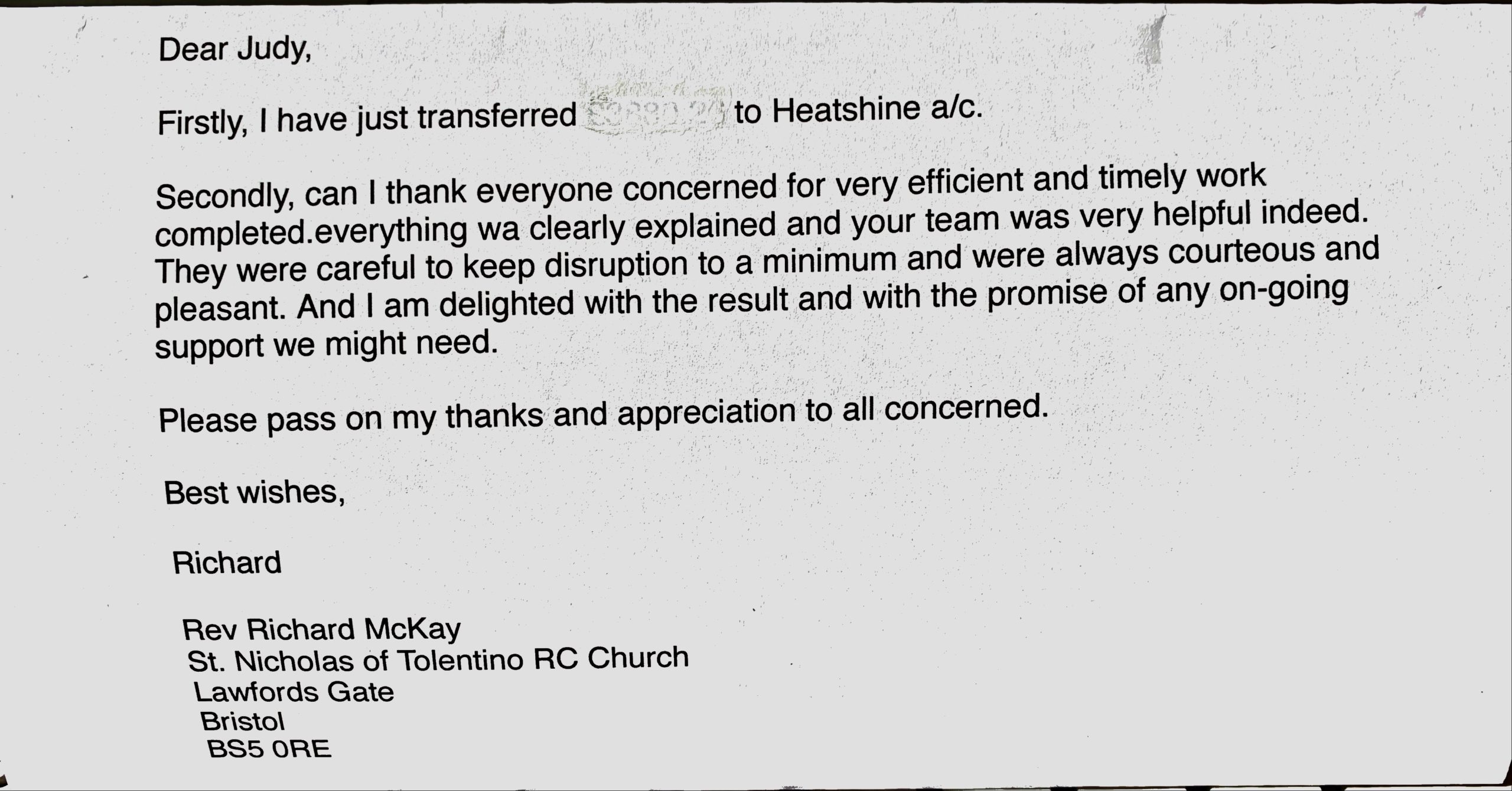 "Can I thank everyone concerned for a very efficient and timely work completed. Everything was clearly explained and your Team was very helpful indeed.
They were careful to keep disruption to a minimum and were always courteous and pleasant.
Am I am delighted with the result and with the promise of any on-going support we might need.
Please pass on my thanks and appreciation to all concerned."
From Rev Richard McKay of St Nicholas of Tolentino RC Church with a holiday cottage near Maenchlochog, Pembs.
"Just to say how good Josey was - thought outside the box and came up with the creative solutions to problems he came across.
Well pleased. Wish I'd discovered you Guys earlier. Thanks again for a brilliant job"
Jerry Wyndham, Drefach Velindre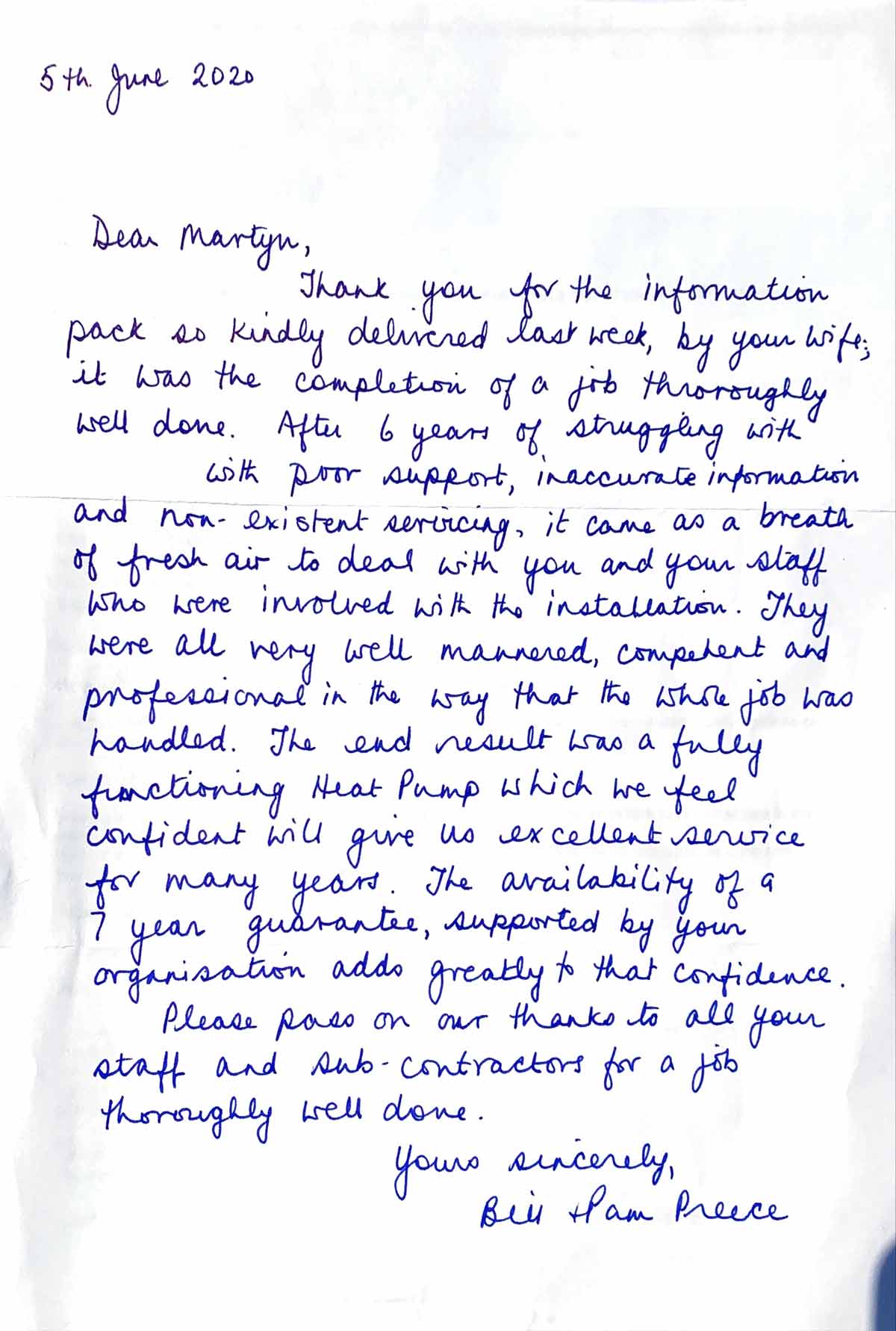 Thank you for the completion of a job thoroughly well done. After 6 years of struggling with another firm and non-existing servicing, it came as a breath of fresh air to deal with you and your staff.
Bill & Pam Preece, St Davids.
Thank you for making such a lovely job of my new walk-in shower. All the workmen were polite, helpful and very hard working.
In fact, I have never ever seen men working so hard.  I would have no hesitation in recommending you to others.
Joan Barry, Cardigan
Just wanted to say thank you very much for fixing my tenant's boiler yesterday (Drefach Felindre). In the two occasions I have used you, you and your company have been exceptionally professional.
Your communication is excellent and your engineers are very knowledgable and take the time to explain things through and offer advice. For our own biomass boiler, we are saving approximately 3 bags of pellets a week after taking advice provided when the boiler was serviced.
As a landlord we try our hardest to provide a high standard of accommodation and not only did you attend extremely promptly to my mercy call last Friday, you left our tenant with a feeling of good service as you enabled us to provide a fast and efficient repair.
We will definitely be using you for our own and our other two properties for all future needs. I only wished we knew about you when we had the solar panels and biomass installed as I am confident you would have provided a more cohesive solution to our energy needs. Thank you so much again.
Beverley Loweth
I had done my homework before deciding to have Solar PV panels installed on my property so I had an idea of what to expect.
I obtained 3 quotations in total and Heatshine Ltd (T/a Martyn O'Connor) were competitive. The fact that they were a local business made it easy to decide to ask them to carry out the installation.
The team were excellent workers, clean , tidy and polite and the installation was carried out efficiently without any problems at all.
Martyn and his office were helpful when sorting out the relevant paperwork required to enable me to benefit from the feed in tariffs available.
I would have no hesitation in recommending his Company to anyone.
C. Portsmouth, Penparc
We would like to let you know how very pleased we are with the solar PV installation at our home provided by Heatshine.
Having considered the choice between wind energy and solar power and decided that the latter was simpler and more effective than relying on wind, although we have plenty of both, we decided to invite Martyn to come discuss the process with us. His infectious enthusiasm and comprehensive knowledge made us feel that we were doing the correct thing and wisely investing in alternative energy at the right time.
The installation of the panels was carried out very professionally, despite cold and strong winds and unpleasant working conditions. The two installers remained cheerful throughout and left everything neat and tidy. Two days later the electricians performed in a similar manner, although they didn't have to endure the cold and left the entire system working. It was a pleasant change that everyone arrived at the time agreed and worked conscientiously throughout.
At all stages we were well informed of what was happening, and this was continued in the follow up phone calls and visit to complete the paperwork. Since the installation, we have generated over 900 units in 6 weeks as well as using "free" electricity during the day for our own consumption. At this rate we are on target to cover our investment within 8 years, as well as the benefit of the reduction in our annual electricity bill.
In all we are totally satisfied with Heatshine in all respects and would happily recommend the company and solar PV to anyone considering alternative energy.
Ros & Laurence Hammerton, Pembrokeshire
Many thanks to you and the guys for all the work done here. We're enjoying our solar heated showers, love the woodburner, appreciate having the oil tankout of sight and the boiler is running so much more quietly than previously.
Ruth & Lee, Pembrokeshire
We as very satisfied customers wish to thank you and your team (a credit to you) for the quick, tidy and efficient way you installed the solar panels onto our roof.
Everything from the scaffolding being erected to the clearing away each night and at the end of the project was most efficient and satisfactory, and we found your staff also to be pleasant, polite and knowledgeable.
So once again - thank you, and we will highly recommend you to anyone that asks.
Teri & Trevor Holland, Pembrokeshire
I cannot allow any further time to elapse without writing to thank your company for the excellent manner in which you dealt with the installation of solar panels on my property.
At first I was a bit puzzled by the whole idea but my fears were quickly allayed by the clear explanation given by Mr. O'Connor. His advice and patience were much appreciated as was the competitive quotation which I received.
The work itself, from the erection of scaffolding, through to the fixing of the panels and culminating in the electrical expertise went without a hitch and I now have a system which, since April 7th, has earned me £300 which I consider worthwhile.
Once again, my thanks for a superb job well executed.
Harry Kennar, Aberporth
Thank you, Mr O'Connor for dealing with my plumbing emergency so quickly. Geoff and Dorian did an excellent job , leaving everywhere clean and tidy.
John D
We are very pleased with the work. Geoff was a very considerate person and a pleasure to have had carry out the work on our gas hob.
D Jones
Jeff came and worked his magic, doing an excellent job as always, to service my back boiler and gas fire, with him coming it made my weekend go just that bit quicker. All the best to you and your team, keep up the good work.
J.D
Many thanks for getting to us to repair the pipe it was very much appreciated particularly at that busy time. Give our thanks to Aled also for his assistance and 'job well done'.
R Burgess
Martyn O'Connor has been our plumber for over 9 years now and we would not use anybody else. Not only does Martyn or a member of his team service our boiler each year but a few years ago they installed a new bathroom for us. We were impressed with their workmanship. They arrived promptly and early each morning, cleaned up after themselves as they went. Recently we had a new boiler installed and was impressed as the one of team showed consideration and immediately removed his shoes on entering the house. The installation proved a little problematic and involved additional work but Martyn kept to the original quote. Their prices are reasonable and the service is reliable especially when we needed to call them out on an emergency one Christmas - they came immediately. I would happily recommend Martyn O'Connor to others.
Mrs J John
Thank You for your quick attention and extremely efficient workmanship.
D Jones
We appreciate the professional way in which your staff carried out the work and for their politeness and the way they arranged things to suit us. We look forward to using the new system next winter and hope to find a big difference in our comfort!
John R
Thanking you so much for your quick service. The tap is fine now.
Barbara B
Many thanks for your help The two "lads" you sent to do the job were a pleasure to have in the house
D.W
Thank you very much for all you and your team have done. I am delighted with the heating and how cosy it all is. Thank you again.
Moira G
Many thanks for an excellent job - it's great to be warm again.
Mr B John
Thank you for installing our new boiler. We were very pleased with the attitude and workmanship of your men who installed it.
Chris E
First class. Excellent service.
Thomas M